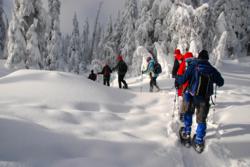 (PRWEB) December 19, 2012
Mountain Trek Health Spa and Fitness Retreat in British Columbia announces their Winter Health Program. There are two options for taking this retreat; the short program running from Dec. 29th to Jan. 5th or the longer program from Dec. 27th to Jan. 5th. Take advantage of this all inclusive program that includes daily snowshoeing in the mountains coupled with evening fitness classes, gourmet food, morning yoga, nightly massages, hot tub, infrared sauna and a steam room. Relax in the lounge of the mountain lodge, basking in the warmth of the fireplace before settling in into a private room with ensuite. Only 14 guests can take part in this magical experience this winter.
During the Winter Health Program guests will not only enjoy the outdoors and gain the benefits of the retreat program but will also learn many important tips that will keep them healthy the rest of the winter. One of those topics includes the importance of vitamin D.
Vitamin D is a fat soluble vitamin, synthesized by the skin when its exposed to sunlight. It helps with the absorption and metabolism of calcium and phosphorus, so in summer we know that most of us are getting all we need. However, in the darker months, when bodies are bundled up in layers of clothes and skin is well hidden, vitamin D takes a hit.
The problem is vitamin D has a broad range of beneficial effects, including lowering blood pressure and raising levels of good HDL (high density lipoprotein) cholesterol, both of which protect from heart disease. Healthy levels of vitamin D also help to make strong bones and teeth.