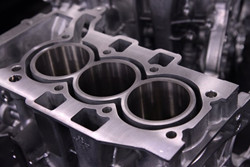 (PRWEB UK) 28 March 2014
PureTech is the latest in a long line of PEUGEOT powertrain innovations, designed to produce powerful performance from ultra-efficient, small-capacity petrol engines.
PureTech is a new modular family of three-cylinder engines which feature state-of-the-art product and manufacturing technology. The range is comprised of 1.0- and 1.2-litre naturally aspirated, and 1.2-litre turbocharged direct injection engines. The latter unit is the first turbocharged direct injection petrol engine developed solely by PSA. The engines cover the power range from 50kW to 96kW (68hp to 130hp).
This efficiency means all the benefits of a 1.6-litre four-cylinder unit from a 1.2-litre three-cylinder engine, with a genuine breakthrough in terms of fuel economy, low CO2 and drivability.
PureTech is a key part of parent company PSA Groups commitment to reduce its average CO2 emissions to an average of 95g/km by 2020. PSA was the leading low CO2 automotive producer in 2012 with CO2 of 121.5g/km and is reducing the weighted average emissions of CO2 of its European range still further with 115.9g/km in 2013.
Four years in development, the PureTech engine is about optimised combustion in harmony with excellent dynamic and fun to drive performance. The technology will maintain PEUGEOTs leadership on engine emissions and fuel efficiency key areas for both retail and business new car buyers.
Over 250 engineers have been working on the technology since 2010, part of a PSA investment that runs into many hundreds of millions of Euros. The results are ground-breaking and have led to applications for 121 patents.
The development teams focus has been creating high-performance engines for mid-range vehicles. PureTech will be deployed worldwide in PEUGEOT cars, and will debut on the new PEUGEOT 308 and 308 SW from March 2014, before appearing in the 108, 208 and 2008 Crossover later in the year. Average fuel economy improvement is 18% compared to the 1.6-litre VTi / THP engine it replaces.
The PEUGEOT PureTech range:
New PEUGEOT 108

o